Relationship between salivary biomarkers and performance in long-distance running
Barbara de Moura Mello Antunes

UNESP - Presidente Prudente

José Gerosa-Neto

Exercise and Immunometabolism Research Group, Department of Physical Education, Universidade Estadual Paulista (UNESP)

Camila Yuri Haraguchi

Exercise and Immunometabolism Research Group, Department of Physical Education, Universidade Estadual Paulista (UNESP)

Rodrigo Xavier Neves

Cancer Metabolism Research Group, Department of Cell Biology, Institute of Biomedical Sciences, University of Sao Paulo (USP), São Paulo, Brazil.

Helton S Souza

Departamento de Psicobiologia, Universidade Federal de São Paulo (UNIFESP), São Paulo, Brazil.

Romulo Araujo Fernandes

Laboratory of Investigation in Exercise, Department of Physical Education, Universidade Estadual Paulista (UNESP), Presidente Prudente, São Paulo , Brazil

Fabio Santos Lira

Laboratory of Investigation in Exercise, Department of Physical Education, Universidade Estadual Paulista (UNESP), Presidente Prudente, São Paulo , Brazil
Resumo
Relationship between salivary biomarkers and performance in long-distance running
 
Purpose: The aim of the present study was to evaluate the salivary cortisol and alpha amylase levels in response to long-distance running according performance variables as accumulated distance, total time and velocity of running in athletes. Methods: Eight sportsmen (aged 21±2 years; Body Mass Index 20±1 kg/m2) completed a total of 259 km in 17 hours, throughout 3 days. The distance, total time run, and velocity during running were computed, and saliva samples were collected in the morning and at night for 3 days. Pearson correlations between variables were performed. Results: The range of distances was ≈ 7 to 54 km, and total time per run was ≈ 32 to 198 minutes, and the velocity of run was 13 to 16.5 km/h. Pearson correlations showed positive relationships between salivary cortisol and distance (r=0.81, p<0.01), total time running (r=0.77, p<0.02) and velocity during run (r=0.89, p<0.002). In addition, no correlations were observed to salivary alpha amylase. Conclusions: Based on this result, the accumulated distance, total time and velocity of running exhibits positive correlations to salivary cortisol, but not to salivary alpha amylase. This data shows that an endocrine response is continuously demanded in long distance running.
 
RESUMO
 
Objetivo: O objetivo do presente estudo foi avaliar os níveis de cortisol e alfa amilase salivar em resposta a corrida de longa distância de acordo com variáveis de desempenho como distância acumulada, tempo total e velocidade de corrida em atletas. Métodos: Oito atletas (idade entre 21 ± 2 anos, índice de massa corporal de 20 ± 1 kg / m2) completaram um total de 259 km em 17 horas, ao longo de 3 dias. A distância, tempo total e velocidade durante a corrida foram computados, e amostras de saliva foram coletadas no período da manhã e noite, durante 3 dias. Para análises estatísticas, correlações de Pearson entre as variáveis foram realizadas. Resultados: A variação de distâncias foi ≈ 7-54 km, tempo total foi ≈ 32 a 198 minutos e a velocidade de execução foi entre 13 e 16,5 km / h. Correlações de Pearson mostraram relações positivas entre cortisol salivar e a distância (r = 0,81, p <0,01), tempo total de corrida (r = 0,77, p <0,02) e velocidade durante a corrida (r = 0,89, p <0,002). Além disso, não foi observado correlações com a alfa-amilase salivar. Conclusões: Com base nesse resultado, a distância acumulada, o tempo total e velocidade exibem correlações positivas com cortisol salivar, mas não com a alfa-amilase salivar. Estes dados mostram que uma resposta endócrina é continuamente exigida na corrida de longa distância.
Referências
-Allgrove, J.E.; Gomes, E.; Hough, J.; Gleeson, M. Effects of exercise intensity on salivary antimicrobial proteins and markers of stress in active men. Journal of Sports Sciences. Vol. 26. Num. 6. 2008. p.653-661.
-Costa, R.J.S.; Fortes, M.B.; Richardson, K.; Bilzon, J.L.J.; Walsh, N.P. The effects of post-exercise feeding on saliva IgA and anti-microbial proteins. International Journal of Sport Nutrition and Exercise Metabolim. Vol. 22. Num. 3. 2012. p.184-191.
-Djken, H.; Kelle, M.; Colpan, L.; Tomer, C.; Ermet, A. Effect of physical exercise on complement and immunoglobulin levels in wrestlers and sedentary controls. Journal Medical School. Vol. 27. 2000. p.39-45.
-Filaire, E.; Ferreira, J.P.; Oliveira, M.; Massart, A. Diurnal patterns of salivary alpha-amylase and cortisol secretion in female adolescent tennis players after 16 weeks of training. Psychoneuroendocrinology. Vol. 38. Num. 7. 2013. p.1122-1132
-Fragala, M.S.; Kraemer, W.J.; Denegar, C.R.; Maresh, C.M.; Mastro, A.M.; Volek, J.S. Neuroendocrine-immune interactions and responses to exercise. Sports Medicine. Vol. 41. 2011. p.621-639.
-Granger, D.A.; Kivlighan, K.T.; el-Sheikh, M.; Gordis, E.B.; Stroud, L.R. Salivary alpha-amylase in biobehavioral research: recent developments and applications. Annals of New York Academy of Science. Vol. 1098. 2007. p.122-144.
-Hackney, A.C. The male reproductive system and endurance exercise. Medicine and Science in Sports and Exercise. Vol. 28. Num. 2. 1996. p.180-189.
-Mckune, A.J.; Smith, L.L.; Semple, S.J.; Wadee, A.A. Influence of ultra-endurance exercise on immunoglobulin isotypes and subclasses. British Journal of Sports Medicine. Vol. 39. Num. 9. 2005. p.665-670.
-Mckune, A.J.; Bach, C.W.; Semple, S.J.; Dyer, D.J. Salivary cortisol and α-amylase responses to repeated bouts of downhill running. American Journal of Human Biology. Vol. 26. Num. 6. 2014. p.850-855.
-Nater, U.M.; Rohleder, N. Salivary alpha-amylase as a non-invasive biomarker for the sympathetic nervous system: current state of research. Psychoneuroendocrinology. Vol. 34. Num. 4. 2009. p.486-496.
-Vidarsson, G.; Dekkers, G.; Rispens, T. IgG subclasses and allotypes: from structure to effector functions. Frontiers in Immunology. Vol. 5. 2014. p.520
-Viru, A. Mechanism of general adaptation. Medical Hypotheses. Vol. 38. Num. 4. 1992. p.296-300.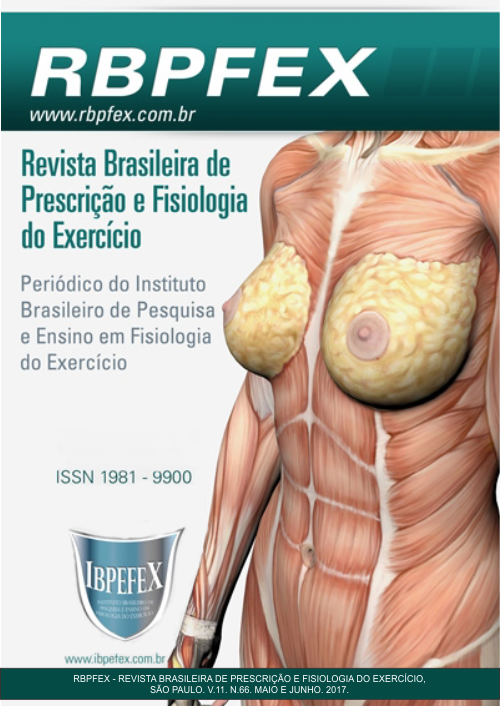 Como Citar
Antunes, B. de M. M., Gerosa-Neto, J., Haraguchi, C. Y., Neves, R. X., Souza, H. S., Fernandes, R. A., & Lira, F. S. (2017). Relationship between salivary biomarkers and performance in long-distance running. RBPFEX - Revista Brasileira De Prescrição E Fisiologia Do Exercício, 11(66), 278-283. Recuperado de http://www.rbpfex.com.br/index.php/rbpfex/article/view/1119
Seção
Artigos Científicos - Original
Autores que publicam neste periódico concordam com os seguintes termos:
Autores mantém os direitos autorais e concedem ao periódico o direito de primeira publicação, com o trabalho simultaneamente licenciado sob a Creative Commons Attribution License BY-NC que permitindo o compartilhamento do trabalho com reconhecimento da autoria do trabalho e publicação inicial neste periódico.
Autores têm autorização para assumir contratos adicionais separadamente, para distribuição não-exclusiva da versão do trabalho publicada neste periódico (ex.: publicar em repositório institucional ou como capí­tulo de livro), com reconhecimento de autoria e publicação inicial neste periódico.
Autores têm permissão e são estimulados a publicar e distribuir seu trabalho online (ex.: em repositórios institucionais ou na sua página pessoal) a qualquer ponto antes ou durante o processo editorial, já que isso pode gerar alterações produtivas, bem como aumentar o impacto e a citação do trabalho publicado (Veja O Efeito do Acesso Livre).