Influência da eritropoetina humana recombinante sobre concentrações de lactato em animais treinados
Paulo Cesar Caetano Júnior

Universidade Paulista (UNIP), São José dos Campos-SP, Brasil.

Lia Campos Lemes

Universidade do Vale do Paraíba (UNIVAP), São José dos Campos-SP, Brasil.

Silvia Regina Ribeiro

Universidade Estadual de Ponta Grossa (UEPG), Ponta Grossa-PR, Brasil.

Tatiana Sousa Cunha

Universidade Federal de São Paulo (UNIFESP), São José dos Campos-SP, Brasil.

Rodolfo de Paula Vieira

Instituto Brasileiro Ensino/Pesquisa em Imunologia Pulmonar e do Exercício, São José dos Campos-SP, Brasil.

Wellington Ribeiro

Universidade do Vale do Paraíba (UNIVAP), São José dos Campos-SP, Brasil.
Palavras-chave:
Drogas ilícitas, Desempenho atlético, Resistência física, Bioenergética
Resumo
Introdução: A eritropoetina humana recombinante (rHuEPO) promove o aumento de glóbulos vermelhos no sangue, podendo potencializar o desempenho físico. No entanto, este hormônio pode desencadear outros efeitos que ainda são pouco discutidos na literatura. Objetivo: Verificar a influência do tratamento com rHuEPO sobre as concentrações de lactato e tempo de exaustão em 20 ratos treinados. Materiais e Métodos: Os animais foram divididos em grupo sedentário (S), grupo treinado (T) e grupo treinado + rHuEPO (T+rHuEPO). O período de administração e de treinamento foi de seis semanas. Resultados: Houve diferença significativa entre as concentrações de lactato do S vs T e T+rHuEPO (P<0,05). Os valores de tempo de exaustão foram significativamente diferentes para T vs S, T+rHuEPO vs S e T (P<0,05). Conclusão: Os resultados mostraram que o tratamento com rHuEPO pode maximizar a resistência física de animais treinados, sem necessariamente alterar significativamente os níveis de glóbulos vermelhos e concentrações sanguíneas de lactato.
ABSTRACT
Effects of uman recombinant erythropoietin on lactate concentrations in trained animals
Introduction: Recombinant human erythropoietin (rHuEPO) is an erythropoiesis-stimulating agente that can improve the exercise performance. Other effects can be observed from the treatment with rHuEPO, but are little discussed in the literature. Aims: To evaluate the influence of rHuEPO on lactate concentrations and exhaustion time of trained animals. Methods: Male Wistar rats (n=20) were randomly divided into sedentary group (S), trained group (T) and trained + rHuEPO group (T+rHuEPO). The period of administration of rHuEPO and aerobic swimming training was six weeks. Results: There was a significant difference between the blood lactate concentrations to S vs T and T+rHuEPO (P<0,05). The values of time of exhaustion were also significantly different between T vs S, T + and T rHuEPO vs S and T (P<0,05). Conclusion: The findings showed that the treatment with rHuEPO increases exercise performance, not necessarily changing the levels of red blood cells and blood lactate concentrations.
Referências
-Audran, M.; Gareau, R.; Matecki, S.; Durand, F.; Chenard, C.; Sicart, M. T.; Marion B.; Bressolle, F. Effects of erythropoietin administration in training athletes and possible indirect detection in doping control. Med Sci Sports Exerc. Vol. 31. Núm. 5. 1999. p. 639-645.
-Baker, J. M.; De Lisio, M.; Parise, G. Endurance exercise training promotes medullary hematopoiesis. FASEB J. Vol. 25. Núm. 12. 2011. p. 348-357.
-Balestra, C.; Germonpré, P. EPO and doping. Eur J Appl Physiol. Vol. 109. 2010. p. 1001-1002.
-Caetano Junior, P. C.; Lemes, L. C.; Ribeiro, S. R.; Ozório, R. A. L.; Ribeiro, W. Influência da eritropoetina humana recombinante sobre o desempenho físico de ratos treinados. Buenos Aires. Vol. 17. Núm. 178. 2013.
-Cayla, J. L.; Maire, P.; Duvallet, A.; Wahrmann, J. P. Erythropoietin induces a shift of muscle phenotype from fast glycolytic to slow oxidative. Int J Sports Med. Vol. 29. Núm. 6. 2008. p. 460-465.
-Cazzola, M. A global strategy for prevention and detection of blood doping with erythropoietin and related drugs. Haematologica. Vol. 85. Núm. 6. 2002. p. 561-563.
-Choi, D.; Kim, M.; Park, J. Erythropoietin: physico and biochemical analysis. J Chromatogr B. Vol. 687. Núm. 1. 1996. p. 189-199.
-Connes, P. ; Caillaud, C. ; Mercier, J. ; Bouix, D. ; Casties, J. F. Injections of recombinant human erythropoietin increases lactate influx into erythrocytes. J Appl Physiol. Vol. 97. Núm. 1. 2004. p. 326-332.
-Durussel, J.; Daskalaki, E.; Anderson, M.; Chatterji, T.; Wondimu, D. H.; Padmanabhan, N.; Patel, R. K.; McClure, J. D.; Pitsiladis, Y. P. Haemoglobin mass and running time trial performance after recombinant human erythropoietin administration in trained men. PLoS One. Vol. 8. Núm. 2. 2013. p. 56151.
-Freitas, J. S.; Carneiro-Junior, M. A.; Franco, F. S. C.; Rezende, L. S.; Santos, A. S.; Maia, H. O.; Marins, J. C. B.; Antônio José Natali, A. J. Treinamento aeróbio em natação melhora a resposta de parâmetros metabólicos de ratos durante teste de esforço. Rev Bras Med Esporte. Vol. 16. Núm. 2. 2010. p. 134-138.
-Gobatto, C. A.; Mello, M. A.; Sibuya, C. Y.; de Azevedo, J. R.; dos Santos, L. A.; Kokubun, E. Maximal lactate steady state in rats submitted to swimming exercise. Comp Biochem and Phys Part A. Vol. 130. Núm. 1. 2001. p. 21-27.
-Jacobs, K.; Shoemaker, C.; Rudersdorf, R.; Neill, S. D.; Kaufman, R. J.; Mufson, A.; Seehra, J.; Jones, S. S.; Hewick, R.; Fritsch, E. F.; Kawakita, M.; Shimizu, T.; Miyake, T. Isolation and characterization of genomic and cDNA clones of human erythropoietin. Nature. Vol. 313. 1985. p. 6-10.
-Juel, C.; Lundby, C.; Sander, M.; Calbet, J. A.; Hall, G. Human skeletal muscle and erythrocyte proteins involved in acid-base homeostasis: adaptations to chronic hypoxia. J Physiol. Vol. 548. Núm. 2. 2003. p. 639-648.
-Juel, C.; Thomsen, J. J.; Rentsch, R. L.; Lundby, C. Effects of prolonged recombinant human erythropoietin administration on muscle membrane transport systems and metabolic marker enzymes. Eur J Appl Physiol. Vol. 102. Núm. 1. 2007. p. 41-44.
-Khanna, G. L.; Manna, I. Supplementary effect of carbohydrate-electrolyte drink on sports performance, lactate removal & cardiovascular response of athletes. Indian J Med Res. Vol. 121. Núm. 5. 2005. p. 665-669.
-Lavoie, C.; Diguet, A.; Milot, M.; Gareau, R. Erythropoietin (rHuEPO) doping: effects of exercise on anaerobic metabolism in rats. Int J Sports Med. Vol.19. Núm. 4. 1998. p. 281-286.
-Lundby, C.; Hellsten, Y.; Jensen, M. B. F.; Munch, A. S.; Pilegaard, H. Erythropoietin receptor in human skeletal muscle and the effects of acute and long-term injections with recombinant human erythropoietin on the skeletal muscle. J Appl Physiol. Vol. 104. Núm. 4. 2008. p. 1154-1160.
-Macrae, H. S.; Dennis, S. C.; Bosch, A. N.; Noakes, T. D. Effects of training on lactate production and removal during progressive exercise in humans. J Appl Physiol. Vol. 72. Núm. 5. 1992. p. 1649-1656.
-Magnani, M.; Corsi, D.; Bianchi, M.; Paiardini, M.; Galluzzi, E.; Gargiullo, E. Identification of blood erythroid markers useful in revealing erythropoietin abuse in athletes. Blood Cells Mol Dis. Vol. 27. Núm. 3. 2001. p. 559-571.
-Martinez-Bello, V. E.; Sanchis-Gomar, F.; Nascimento, A. L.; Pallardo, F. V.; Ibañez-Sania, S.; Olaso-Gonzalez, G.; Calbet, J. A.; Gomez-Cabrera, M. C.; Viña, J. Living at high altitude in combination with sea-level sprint training increases hematological parameters but does not improve performance in rats. Eur J Appl Physiol. Vol. 111. Núm. 6. 2011. 1147-1156.
-Meierhenrich, R.; Jedicke, H.; Voigt, A.; Lange, H. The effect of erythropoietin on lactate, pyruvate and excess lactate under physical exercise in dialysis patients. Clin Nephrol. Vol. 45. Núm. 2. 1996. p. 90-97.
-Nascimento, E.; Cavalcante, T.; Pereira S.; América Palmeira, A.; Rocha, M. C.; Viana, M. T.; Manhães-de-Castro, R.; Célia MMB de-Castro, C. M. M. B.; José Duarte, J.; Leandro, C. G. O exercício físico crônico altera o perfil leucocitário e a taxa de fagocitose de ratos estressados. Rev Port Cien Desp. Vol. 4. Núm. 3. 2004. 26-33.
-Poux, J. M. ; Lartigue, M.; Chaisemartin, R. A. Uraemia is necessary for erythropoietin-induced hypertension in rats. Clin Exp Pharmacol Physiol. Vol. 22. Núm. 10. 1995. p.769-771.
-Robach, P.; Recalcati, S.; Girelli, D.; Gelfi, C.; Aachmann-Andersen, N. J.; Thomsen, J. J.; Norgaard, A. M.; Alberghini, A.; Campostrini, N.; Castagna, A.; Viganò, A.; Santambrogio, P.; Kempf, T.; Wollert, K. C.; Moutereau, S.; Lundby, C.; Cairo, G. Alterations of systemic and muscle iron metabolism in human subjects treated with low-dose recombinant erythropoietin. Blood. Vol. 113. Núm. 26. 2009. p. 6707-6715.
-Russell, G.; Gore, C. J.; Ashenden, M. J.; Parisotto, R.; Hahn, A. G. Effects of prolonged low doses of recombinant human erythropoietin during submaximal and maximal exercise. Eur J Appl Physiol. Vol. 86. Núm. 5. 2002. p. 442-449.
-Ru, W.; Peijie, C. Modulation of dentritic cells and NKT cells by excessive exercise in rats. J Med Biol Eng. Vol. 29. Núm. 4. 2009. p. 190-194.
-Schuler, B.; Vogel, J.; Grenacher, B.; Jacobs, R. A.; Arras, M.; Gassmann, M. Acute and chronic elevation of erythropoietin in the brain improves exercise performance in mice without inducing erythropoiesis. FASEB J. Vol. 26. Núm. 9. 2012. p. 3884-3890.
-Thomsen, J. J.; Rentsch, R. L.; Robach, P.; Calbet, J. A.; Boushel, R.; Rasmussen, P.; Juel, C.; Lundby, C. Prolonged administration of recombinant human erythropoietin increases submaximal performance more than maximal aerobic capacity. Eur J Appl Physiol. Vol. 1001. Núm. 4. 2007. p. 481-486.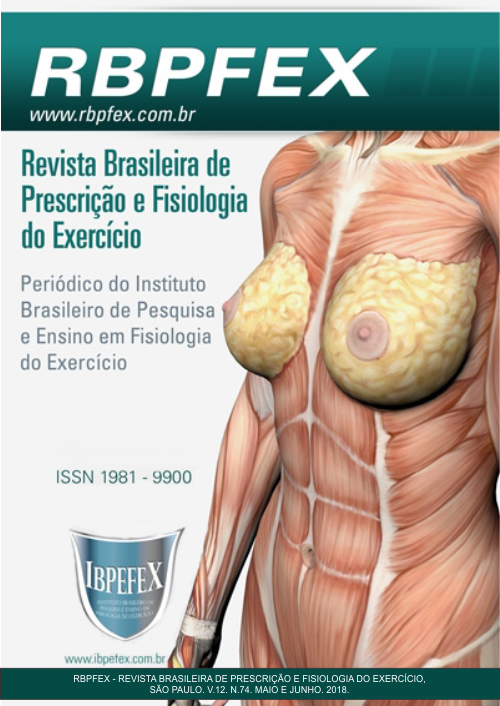 Como Citar
Caetano Júnior, P. C., Lemes, L. C., Ribeiro, S. R., Cunha, T. S., Vieira, R. de P., & Ribeiro, W. (2018). Influência da eritropoetina humana recombinante sobre concentrações de lactato em animais treinados. RBPFEX - Revista Brasileira De Prescrição E Fisiologia Do Exercício, 12(74), 357-364. Recuperado de http://www.rbpfex.com.br/index.php/rbpfex/article/view/1412
Seção
Artigos Científicos - Original
Autores que publicam neste periódico concordam com os seguintes termos:
Autores mantém os direitos autorais e concedem ao periódico o direito de primeira publicação, com o trabalho simultaneamente licenciado sob a Creative Commons Attribution License BY-NC que permitindo o compartilhamento do trabalho com reconhecimento da autoria do trabalho e publicação inicial neste periódico.
Autores têm autorização para assumir contratos adicionais separadamente, para distribuição não-exclusiva da versão do trabalho publicada neste periódico (ex.: publicar em repositório institucional ou como capítulo de livro), com reconhecimento de autoria e publicação inicial neste periódico.
Autores têm permissão e são estimulados a publicar e distribuir seu trabalho online (ex.: em repositórios institucionais ou na sua página pessoal) a qualquer ponto antes ou durante o processo editorial, já que isso pode gerar alterações produtivas, bem como aumentar o impacto e a citação do trabalho publicado (Veja O Efeito do Acesso Livre).